Stranger Things Skate
August 5 @ 9:00 pm

-

11:00 pm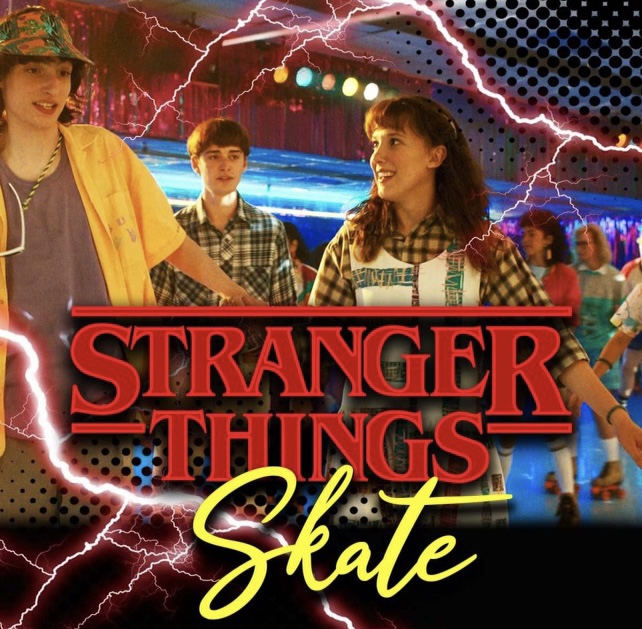 OPEN TO ALL AGES
🚲🔦 𝚂𝚃𝚁𝙰𝙽𝙶𝙴𝚁 𝚃𝙷𝙸𝙽𝙶𝚂 𝚂𝙺𝙰𝚃𝙴 🛼🎸
𝙴𝚐𝚐𝚘 𝙴𝚊𝚝𝚒𝚗𝚐 𝙲𝚘𝚗𝚝𝚎𝚜𝚝𝚜 🧇 & 𝙱𝚎𝚜𝚝 𝟾𝟶𝚜/𝚂𝚝𝚛𝚊𝚗𝚐𝚎𝚛 𝚃𝚑𝚒𝚗𝚐𝚜 𝙲𝚘𝚜𝚝𝚞𝚖𝚎 👩🏼‍🎤 𝚠𝚒𝚗𝚜 𝚊 𝙲𝚊𝚜𝚑 𝙿𝚛𝚒𝚣𝚎! 𝟾𝟶𝚜 𝚊𝚝𝚝𝚒𝚛𝚎 𝙷𝙸𝙶𝙷𝙻𝚈 𝚛𝚎𝚌𝚘𝚖𝚖𝚎𝚗𝚍𝚎𝚍!
𝙰𝚄𝙶𝚄𝚂𝚃 𝟻𝚝𝚑, 𝟿-𝟷𝟷𝙿𝙼
$𝟷𝟻.𝟶𝟶 𝚏𝚘𝚛 𝙰𝚍𝚖𝚒𝚜𝚜𝚒𝚘𝚗 & 𝚂𝚔𝚊𝚝𝚎 𝚁𝚎𝚗𝚝𝚊𝚕
$𝟷𝟶.𝟶𝟶 𝚏𝚘𝚛 𝙰𝚍𝚖𝚒𝚜𝚜𝚒𝚘𝚗 𝚠𝚒𝚝𝚑 𝙾𝚆𝙽 𝚂𝚔𝚊𝚝𝚎𝚜
$𝟻.𝟶𝟶 𝙽𝚘𝚗-𝚂𝚔𝚊𝚝𝚒𝚗𝚐 𝚂𝚙𝚎𝚌𝚝𝚊𝚝𝚘𝚛𝚜 𝙵𝚎𝚎 (𝟷𝟾𝚢𝚛𝚜+)
𝙻𝙸𝙼𝙸𝚃𝙴𝙳 𝚃𝙸𝙲𝙺𝙴𝚃𝚂 𝙰𝚅𝙰𝙸𝙻𝙰𝙱𝙻𝙴 𝙰𝚃 𝚃𝙷𝙴 𝙳𝙾𝙾𝚁!
uǝɥʇ noʎ ǝǝS 👻
NO OUTSIDE FOOD, BEVERAGES OR DECOR  ALLOWED INSIDE OF THE FACILITY!